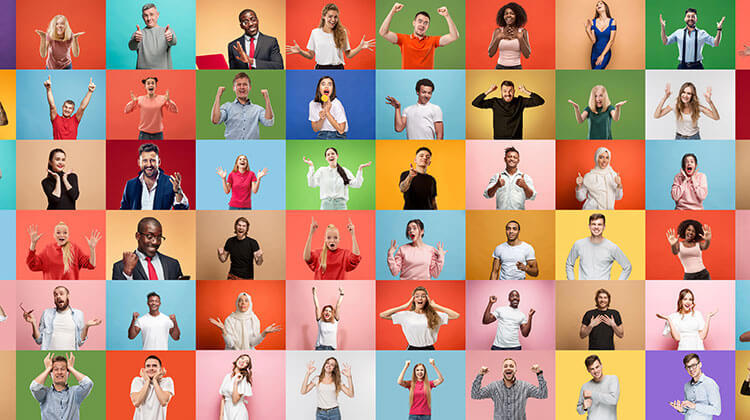 Open Enrollment Patient Acquisition & Retention Strategies
Open enrollment is a massive opportunity for your medical group to gain market share because many health insurance plans require consumers to choose a Primary Care Physician at the time they enroll.
It's smart to market your physicians and your medical group before and during open enrollment season because you will:
Retain more patients.
Stimulate positive word-of-mouth from current patients.
Gain new patients.
Medical groups that want to win market share during open enrollment will use these patient acquisition and retention strategies because they are so effective and practical.
Understand the Decision Journey
To identify where you want to be and how to get there, you must understand where you are. Take the time to think through the patient decision journey as you chart your course to success this open enrollment season.
Initial Consideration Set
You want your medical practice and doctors to be here because people are up to three times more likely to choose a brand that's in their initial consideration set. When your medical practice and its physicians are top-of-mind, it means you have achieved a place in the initial consideration set. Owning a space on this list has never been more important because loyalty is so elusive.
Active Evaluation
In this step of the decision journey your medical practice and its physicians must satisfy at least 21 factors to remain in the consideration set. Of those 21 factors, there are seven that matter most to prospective patients.
Even if your medical practice isn't in the initial consideration set, you still have a chance to be selected because patients add and subtract brands from consideration all the way up to the moment of choice. To become included, you must emphasize what makes your medical group and its physicians different and better. If you're already in the initial consideration set, it's the strength of your differentiation that keeps you from being displaced by an "interrupter" that patients perceive to be more compelling.
Moment of Choice
The moment of choice is when patients enroll in a health insurance plan and select a primary care physician. When your medical group and its physicians are the first names patients think of and you've successfully differentiated from competitors, you win because patients designate your doctors as their primary care physicians.
Post-Choice Experience
Once one of your primary care physicians has been designated by a patient, several touchpoints exist through that patient's journey with your medical group where you can build brand loyalty. Carefully crafting your communications and experiential elements for each touchpoint is important because it can reduce the number of patients who shop around for a better fit, and the number who ultimately switch to other medical groups.
Prepare for Open Enrollment Marketing
Here are the things you need to do to prepare your medical practice for a successful open enrollment marketing campaign:
Strengthen Your Medical Group's Online Presence
Update the list of all insurance plans your medical group accepts.
Confirm all insurance plans have correct, complete information for each of your medical practice locations and physicians.
Audit your medical group's online presence to ensure that all information is current, correct, and consistent with other information found online.
Triage and address all reviews posted online, whether they be negative or positive.
Enhance Your Physician Profiles
Assess online physician profiles and those of your midlevel providers to ensure that all information is current, correct, and consistent with other information found online.
Enrich physician profiles so they answer five crucial questions and address the seven factors that matter most to people when they are choosing a doctor. Contact us if you would like to know more about physician marketing.
Review and respond to online reviews posted about your physicians and providers.
Segment Your Physicians and Providers
Segment your physicians and providers into two groups:
Providers by specialty.
Providers with access (those who have the capacity to accept new patients).
Providers with full patient panels.
Now you know exactly which physicians to promote in your patient acquisition efforts, and how many new patients you need to fill each provider's patient panel.
Segment Your Current Patients
At minimum, segment your current patients as follows:
Patients with commercial health insurance.
Patients who are now eligible for Medicare.
Patients with insurance provided through an Affordable Care Act marketplace.
We recommend completing further segmentation and developing ideal patient personas for each segment because doing so enables you to achieve more precise targeting and better align campaign tactics and creative.
Patient Acquisition Strategy
Your open enrollment patient acquisition marketing must satisfy 21 factors that drive the choices of prospective patients.
Reflect on the patient decision journey. Think about what matters most to patients at each step and consider which advertising channels are best to reach them at that point. Use this knowledge to select patient acquisition marketing tactics and develop compelling creative.
Brand awareness and familiarity are crucial to the success of your open enrollment marketing campaign because people are up to 3x more likely to choose a brand from the initial consideration set.
Your open enrollment marketing plan should utilize tactics that drive awareness, consideration, and conversion. Before open enrollment, we recommend weighting awareness and consideration heavily, then reweighting more to consideration and conversion during open enrollment.
Patient Retention Strategy
According to research by McKinsey&Company, 87% of consumers across 27 different categories shopped around before either repurchasing the same brand or switching to a different brand.
Relationships are reciprocal. It feels good to be valued and wanted. Don't expect that just because a patient chose you once that he or she will choose you again.
This is why the Post-Choice Experience phase of the decision journey is so important. Thank patients for choosing your practice. Earn their goodwill by delivering an exceptional patient experience. Leverage each touchpoint to make them feel important and valued. Then ask your patients to continue their relationships with your medical group.
Marketing tactics that generate brand awareness and invite consideration are critically important to your patient retention marketing because the majority of patients are evaluating your competitors while they are considering whether to continue their relationship with you.
Measure What Matters
To assess the performance of your open enrollment marketing campaign, assign Measurements That Matter (MTM) to each marketing tactic. Regularly review these MTMs during the campaign to see where performance can be optimized.
Conclusion
Many medical practices struggle to meet their patient retention and acquisition goals during open enrollment because they do the same things they've always done, or worse, they simply leave it to chance.
When marketing leaders like you don't have the resources internally to reinvent their open enrollment marketing strategy, it's awfully tough to generate new patients and retain current patients.
That's why people turn to Simple Business Solutions.
We apply market research and psychological principles to outsmart your competitors and win market share. Our open enrollment patient acquisition and retention strategies are turnkey and proven effective.
Contact us to see how we can help your medical practice win during this open enrollment.
---
Frequently Asked Questions
What is Open Enrollment?
During open enrollment consumers can enroll in a health insurance plan, switch to a different health plan, or drop their current health plan.
When is Open Enrollment?
Open enrollment season for health insurance varies based on how consumers obtain insurance. Employers set the open enrollment period for company-provided health insurance plans, while Medicare recipients select their plans during one of two windows (October 15th through December 7th, or a more limited period between January 1 and March 31). Affordable Care Act open enrollment begins on November 1st and ends December 15th unless the consumer's state mandates a longer period.